Nilfisk 3997 & 3997W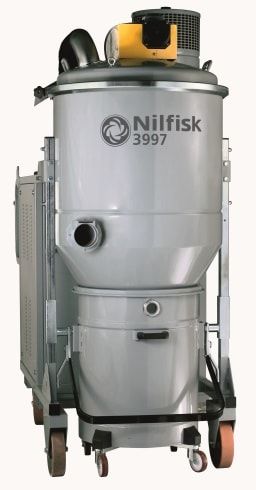 For very heavy duty and continuous service. This 3 phase vacuum is the most powerful mobile vacuum unit in the Nilfisk-CFM range, and has the ability to collect large quantities of heavy material found in a variety of industries.
The 3997 and 3997W have a 22 kW, three phase, aluminium casting induction motor directly driving the fan. The suction unit is run by an electronic control box utilising soft start technology which reduces power consumption during start up. An external electric filter shaker enables easy and efficient filter cleaning. The "L" class star filter is mounted in the machine as standard and guarantees efficient filtration. A cyclone plate is incorporated into the filter chamber and aids filter protection. With a 175 litre capacity waste container, they are designed for heavy duty use and continuous service. Fitted with the drop down release mechanism as standard ensures ease of removal and emptying. The machine body and chassis are manufactured to ensure stability, robustness and a long service life.
Heavy duty vacuums
Continuous running
Reduced maintenance
Standard electric filter shaker
High suction levels
Filter monitoring
Bin lifting accessories available
L, M, H and stainless steel versions


Accessory Boards Brochure


Call us now on 01845 565 300
or 01677 426 699