Nilfisk T40 Plus ATEX & T40W PLUS ATEX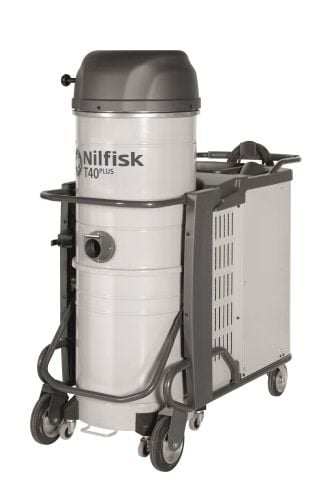 T40 Plus ATEX
The T40 Plus is a mobile industrial vacuum compatible for liquid or solid materials. With multiple options available the T40 Plus becomes a very versatile machine. The drop down release mechanism on the waste bin enables ease of emptying.
Quiet and light but offering excellent performance, The T40 Plus is a 4kW machine and is available in many different configurations. Fitted with an M class filter or cartridge filter system, and with HEPA or ULPA absolute filters for the collection of very fine or hazardous dust makes this machine very capable for its size. The container is available in either 50 or 100 litres container along with the option of a solid cut-off system. Fitted with a manometer to monitor filter efficiency and machine performance the T40 Plus can also be equipped with an electric filter shaker or pulse jet cartridge cleaning to optimise performance throughout the life of the filter.
The ATEX versions for Z21 and 22 are equipped with a stainless steel container and anti-static star filter. The T40 Plus is made easy to use thanks to its slim but robust design, which enables it to cope with a variety of different industrial demands.
4kW side channel blower
Manual or electric filter shaker
L, M, H class versions
ATEX certified for Z21 and Z22
Solid cut off system available
Gravity unload option
Cyclone plate option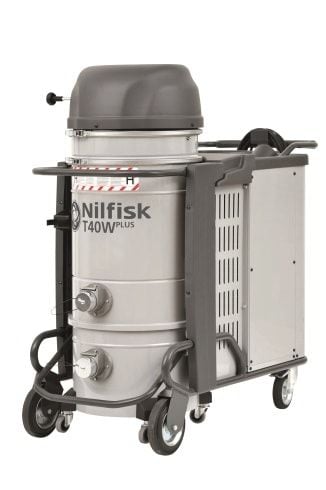 T40W Plus ATEX
T40W generates a great airflow and is the ideal tool to collect high quantities of very fine dust. The M and H class filters grant a safe dust containment. The ATEX certification allows to work safely in explosion- proof areas.
Ideal to be used in companies producing high quantities of very fine dust, model T40W Plus is available in several configurations: with M class filter or with HEPA upstream or ULPA downstream absolute filter for the collection of very fine or hazardous dust, with cartridges filter and jet pulse cleaning system, with 50 or 100 liters container, with solid cut-off system and so on. ATEX versions can work in zone 22-21-2 in compliance with directives 94/9/EC and 99/92/EC.
Manual or electric filter shaker version
Jet pulse cartridge filter cleaning system version
Vacuometer
L and H class versions
ATEX version for zone 22-21 and 2
Plug with inverter

Call us now on 01845 565 300
or 01677 426 699